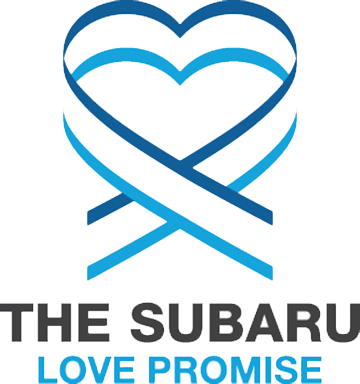 What is the Subaru Love Promise?
Subaru and our retailers believe in making the world a better place and the Subaru Love Promise is our vision of respecting all people. This is our commitment to show love and respect to our customers and to work to make a positive impact in the world.
How is Frederick Subaru dedicated locally to the Love Promise?
The Frederick Subaru Love Promise can be seen in various partnerships with local charities and non-profits including The Animal Welfare League and Hospice of Frederick County. We're grateful for the opportunity, not only to be a part of our community, but to serve it as well.
Love Promise Stories from Frederick Subaru
Subaru and Frederick Subaru believe in making a positive impact on the communities in which we live and work. We uphold that belief through our Love Promise Community Commitment. Every month, we select inspiring stories from customers and partners from around our area who strive to support our collective commitment and feature them here
Frederick Subaru Delivers Warmth to MOH Clinic - Jillian J
On Tuesday, July 16th, The Leukemia & Lymphoma Society's (LLS) Maryland Chapter and Frederick Subaru had the pleasure of delivering 80 blankets to the Maryland Oncology Hematology Frederick Clinic as part of the Subaru Loves To Care program. These comforting gifts were accompanied by personalized messages of hope written by the customers and staff of Frederick Subaru. Representatives from Frederick Subaru, the Maryland Oncology Hematology Clinic, and the Maryland Chapter of The Leukemia & Lymphoma Society were all present during the blanket delivery.This incredible act of generosity was warmly received by the MOH Clinical Nurse Manager, Nancy Lee, and the staff of Maryland Oncology and Hematology, who were thrilled to distribute these comforting blankets to their patients. Many thanks to everyone at Frederick Subaru and the Maryland Oncology Hematology Clinic in Frederick, not only for a memorable day, but for supporting LLS's mission to cure blood cancers and improve the quality of life of patients and their families.
---
A chili cook off to benefit those in need - Patrick B
At Frederick Subaru, we love supporting local charities in our community. We really enjoy finding creative and fun ways to get our staff and customers to help support the charities we stand behind here at Frederick Subaru. On February1st of 2019 we hosted a Chili Cook-off to benefit The Valor Center, here in the greater Frederick area. On the Friday of the Chili cook-off, employees were encouraged to wear any sports team jersey of their choice if they donated $3 each towards The Valor Center. Customers were invited in as well to participate by sampling our chili selection in exchange for learning from and listening the mission of the Valor Center. Our garage bay was filled with smiling faces and warm hearts as our staff and customers mingled on a personal level, lively conversations were sparked by team appeal and discussing friendly rivalries between everyone's favorite teams. It was so enjoyable to watch everyone come together for a good cause and have fun while doing it. We seldom correlate delicious chili and sports with charitable events, but it was a wonderful blend that warmed up a cold winter day for all of us here at Frederick Subaru. We plan on hosting more of these events in the future to help other organizations in our area soon! About The Valor Centers Earn While You Learn Life Development Classes: "…Our primary focus is serving the needs of low-income, homeless and near homeless individuals and families…. We work to promote self-sufficiency for our clients as well as improve their quality of life and economic viability.Our services are offered year-round, as funding allows. To enhance the local capacity to meet the needs of our target clients…" – thevalorcenter.org "A diversified curriculum of life development courses structured to teach critical life management skills that may never have been learned or have been lost during the course of physical or mental illness, domestic violence, substance use, incarceration, and homelessness. They are essential for program participants to function independently in the community. This is very similar to the Department of Social Service's Temporary Cash Assistance Program—also known as (TCA). In order to receive TCA, client's must volunteer up to 30 hours per week for the duration of their enrollment in the program. The same is true at Valor Ministries. Instead of volunteering, our client's must take at least six classes in order to receive financial aid or support services." – thevalorcenter.org
---
Charity for the Cancer patient community - Hurwitz B
Frederick Maryland is not the biggest city in Maryland. At Frederick Subaru, we believe our city has the biggest heart in Maryland, which makes the Subaru Love Promise a perfect fit for our community. Frederick citizens are quick to rally behind one another and the community for support and charitable relief. Whenever we hear about a good cause outside of our regular Love Promise events, we're quick to lend a helping hand. During the month of October, National Breast Cancer Awareness Month, we partnered with a local family charity, The Hurwitz Breast Cancer Fund, a fund of The Frederick Memorial Hospital. The Hurwitz Breast Cancer fund holds annual 5k and Gala events funded via charitable donations, our goal was to bring awareness and funding to support this great cause based out of and started by Frederick Maryland locals. Frederick Subaru gave employees the chance to purchase a custom-made pink Breast Cancer Awareness shirt and wear it on Fridays during the Month of October, if an employee wore the shirt, they'd donate funds to the Hurwitz Fund and Frederick Subaru, part of the Frederick Motor Company then matched donations collected by employees and donated the additional funds to the Hurwitz Breast Cancer Charity. Some accomplishments of The Hurwitz fund in the past decade include… • Funds help make the new James M Stockman Cancer Institute a reality for cancer patients in our community. • A special breast coil was purchased for use with digital imaging of the breast. • 3D & CAD Mammography Systems have been purchased to assist in the detection of breast cancer at an earlier stage; allowing for more successful outcomes. • Supported a Breast Cancer Symposium and other group events for patients. • Created a healing space for patients and families at the Center for Breast Care at FMH Crestwood. • Purchased a device that enables the surgeon and radiologist to examine biopsy tissue in the operating room; this makes biopsies easier on the patient and returns results more quickly. Frederick Subaru is proud to support causes like this and many more through our community outreach with the Subaru Love Promise in mind.
---
Frederick Subaru, LLS deliver gestures of warmth - Sheronda B
Frederick Subaru partnered with the Leukemia and Lymphoma Society for the second year to spread a little love and care. Customers and employees at Frederick Subaru joined by the Maryland Chapter of the Leukemia & Lymphoma delivered 80 warm blankets, 30 messages of hope, and 12 arts and craft kits to those suffering with cancer. "There are different places that they focus on for community service, and this one is the second year now providing these blankets to these patients. It's good to see the smiles on their faces,"" said Patrick Blackwood, Subaru Sales Manager, Frederick Subaru. And the patients and staff appreciate their kind gestures. ""While they are receiving chemo, they are usually cold. We do provide blankets, but they were nice enough to bring blankets that they can take home with them, and the messages were definitely touching their hearts"" said Amber Shahab, Office Manager, Frederick Oncology Hematology Associates. The dealership has an event to give back each quarter. ""Customers come in, and they have the opportunity to just write notes of encouragement to these folks, just letting them know that they are here thinking about them, they are praying for them, and they want to make sure they get better,"" said Blackwood. http://www.localdvm.com/news/i-270/frederick-subaru-leukemia-lymphoma-society-deliver-gestures-of-warmth-hope/758608540
---
Subaru and NWF Loves the Earth - Karen R
Our fifth grade students planted our habitat garden. While waiting turns to work on the garden, they spent time studying the factors that effect the growth of plants.
---
Subaru Loves Learning Book Drive - August 1-31 - Molly M
Join us in our Subaru Loves Learning initiative during the month of August! We are partnering with the American Association for the Advancement of Science (AAAS) in donating science books to Waverly Elementary School in the Frederick County Public Schools District. All of the books that will be donated have been recognized by AAAS as some of the best science books in their field. Contact us to learn more information.
---
Subaru Loves the Earth - E-Waste Event - Danielle S
We would like to thank our customers for participating in our E Waste Recycling event during the month of April. With your help, we were able to prevent 18,808 lbs of carbon emissions from polluting the atmosphere. This is equivalent to saving 721 trees, 3,198 gallons of gasoline, 27,266 plastic bottles, and 125,418 aluminum cans. Thank you for helping strengthen the Subaru Love Promise!
---
April 1-30, 2015 E-Waste Recycling Event - Molly M
Throughout the month of April, we are hosting an E-Waste Recycling Event in our store to collect unwanted electronics. We've arranged to work with a company who will responsibly collect, re-purpose, and recycle your electronic waste. Help us protect our environment. Just show up with your E-Waste and we'll do the rest! The first 50 customers who contribute will receive a complimentary environmental badge of ownership. We will accept: LCD Monitors, Cell Phones, Laptops, Tablets, CRTs up to 40, Video Games/Consoles, Fax Machines, DVD/VCR Players, Printers, Computer Peripherals, Switches/Routers, Cords and Wires.
---